How To Get Rid Of Lily Pads
Looking for lily pad removal to restore your lakefront to its natural beauty? Our suba-by-the-root removal method is the most effective way to reduce the density of the lilypads and the amount that grows back each summer.
They are lake weeds that float on the top of the water, some with a flower that resembles broad tree leaves. There are over 70 different species of this aquatic flower that root themselves to the bottom of your waterfront. Their tube-like roots run underneath the lilypads providing them with necessary nutrients for the plant.
The White Water Lily is the most common lily pad seen in Minnesota lakes, and it thrives in shallow water with mucky soil. There are some regulations regarding lilypad removal in Minnesota; however, lake homeowners can clear a 15′ wide channel extending to open water by mechanical means without a permit from the Minnesota Department of Natural Resources.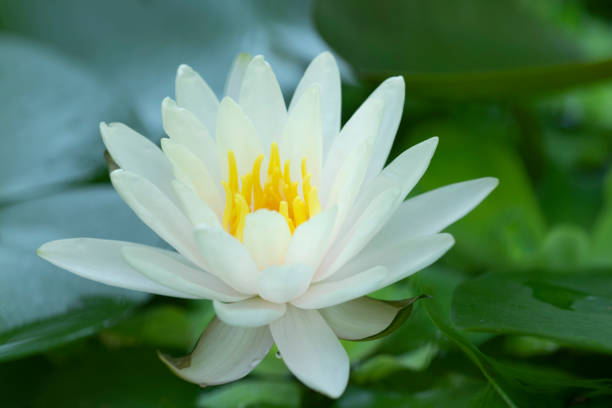 Talk to our experts to see what is allowed on your lakefront and what your neighbors do with their lilypads!
What lily pads do for the environment:
Like most natural things, they play an essential role in our ecosystem. These weeds offer shade and protection to native fish, hiding them from natural predators. However, they can quickly grow out of control, causing headaches and significant consequences. Lilypads can soon take over an entire lakefront, potentially invading areas and causing the water to become cooler, depleting natural nutrients. Additionally, they can halt any recreational activities like boating and swimming.
Best way to control the lilypads:
The best way to maintain your lilypads is to pull them out by their roots. With our scuba-by-the-root removal services, we offer multi-visit plans to keep your lily pad regrowth maintained throughout the entire summer. We can target the removal when the lily pads are beginning to return to your lakefront. With this method, you can experience instantaneous results and a reduction in the number of lilypads on your lakefront.
Additionally, coupling an aerator with our scuba removal will be the most effective method to control the weeds. Since the aerator circulates the water, this will disrupt the regrowth of the pads that thrive in stagnant water. We are ready to determine which aerator would be most effective for your lakefront; find out here!
Our account managers are available to discuss your specific lilypad removal and provide you with a unique quote for your weed removal. We also remove other lake weeds, including cattails, wild rice, and submerged weeds, so you can immediately restore your lakefront to its original beauty!
Resources:
https://thepondshop.com/pages/lily-pad-guide#:~:text=Aeration%20has%20also%20been%20used,the%20growth%20of%20these%20plants.